Los Cabos
With a touch of Pacific Coast flair, you can fish, sail, golf or simply relax on miles and miles of golden beaches. This is the best of Mexico by way of California.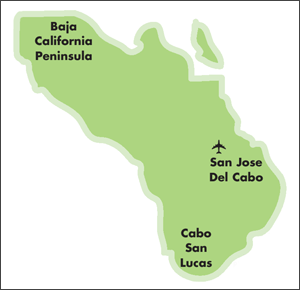 A popular Mexican retreat! The beaches are spectacular and the weather is perfect with warm days and cooler nights. The golf is amazing!

Los Cabos means "the Capes" and refers to the resort area at the southern tip of the Baja Peninsula. Two towns, Cabo San Lucas and San Jose del Cabo, are joined by a new four-lane highway stretching along the 20-mile Corridor. Along one side are rose-tinted desert mountains; on the other, the shimmering Pacific Ocean washes up on miles of sandy beach.

Cabo San Lucas:
Once a fishing village, this exciting resort town has evolved into a bustling, lively town with plenty of night life, shopping, dining and watersports on a sheltered bay.

San Jose del Cabo:
Much quieter than Cabo San Lucas, the creamy sand beaches and soaring rock formations of San Jose del Cabo make its shoreline unmistakable. The area has plenty of natural wonders (including whale-watching, mid-January to mid-March) that are easily accessible from each hotel. Most beaches are not suitable for swimming due to undertow.
THINGS TO DO

Golf:
Los Cabos is famous for its golf courses. The many championship courses stretch along the spectacular coastline and offer great golf with unbelievable scenery.

Cruising:
From mid-January to mid-March thousands of gray whales pass by on their annual migration. Another popular outing is an adventure tour through amazing sand dunes to see giant sea turtle nests.

Activities & Tours:
There is horseback riding, biking, snorkelling, scuba diving, submarine tours and desert tours.
GENERAL INFORMATION:

Flying time from Edmonton: Approximately 4 hours.

Languages: Spanish & English

Currency: Mexican Pesos. U.S. currency recommended.

Documents: Check with your travel agent. Mexican tourist cards supplied & validated by your travel agent. Some restrictions apply to tourists 18 years & under, when travelling without parents.
Contact us at:
Tel Number: 780.708.4040
Top