Cozumel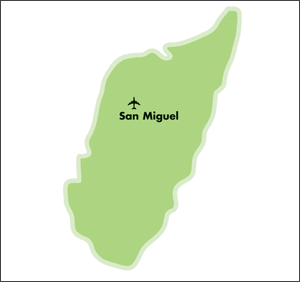 Know for its beautiful coral reefs, dazzling array of tropical fish, clear Caribbean waters and set against the backdrop of Mayan ruins, the island of Cozumel is the perfect getaway for secluded tranquility.
There are dozens of fabulous diving sites to explore off the coast of Cozumel. Be sure to look out for for the Cozumel Splendid Toadfish. The Splendid Toadfish (aka Canal Toadfish) is unique in that it has only been found in one place in the entire world. Cozumel Island - Mexico
To make an online reservation click here
or
Book your Cozumel vacation with a Wanderlust consultant.

GENERAL INFORMATION:

Flying time from Edmonton: Approximately 5.5 hours.
Languages: Spanish and English
Currency: Mexican Pesos. U.S. currency recommended.
Electricity: Same as Canada and the U.S.

Climate: Sub-tropical.

Documents: Check with your travel agent. Mexican tourist cards supplied and validated by your travel agent. some restrictions apply to tourists 18 years & under, when travelling without a parent.
Contact us at:
Tel Number: 780.708.4040
Top