Aruba
Aruba is an island that is blessed with continuous trade winds. It is well known for it's excellent shopping (no sales tax) and great restaurants.

THINGS TO DO

Shopping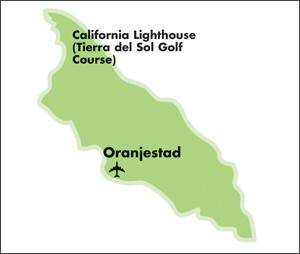 Head for the island's capital, Oranjestad. There is no sales tax, so the price you see is the price you pay (don't even think about haggling).

Dining
Venues range from a houseboat in the enchanting harbour to an authentic 1804 Dutch windmill happily displaced near Palm Beach. International cuisine settings run the gamut from casual to romantic and elegant.

Nightlife & Entertainment
Aruba's casinos are reputed to be among the liveliest and the best in the Caribbean, and all the sparkling entertainment you could wish for can be found there nightly in the sophisticated beach hotels.
To make an online reservation click here or
Book your Aruba vacation with a Wanderlust consultant.
At The Beach!
What will it be? Windsurfing? Snorkelling on the reef? Scuba diving wrecks in warm crystal clear water with visibility up to 30 metres? Deep-sea fishing? Or just basting yourself with sunscreen and lazing in the sun? Aruba is the Windsurfing Capital of the Caribbean, providing windsurfing fanatics with optimal conditions for "ripping the surf".
GENERAL INFORMATION:

Flying Time from Edmonton: Approximately 6.5 hours.

Languages: Papiamento. Dutch. Spanish. English widely spoken.

Currency: Florin. U.S. currency recommended.

Electricity: Same as Canada and the U.S.

Gambling: Persons under 18 years not allowed in casinos.

Documents: Check with your travel agent
Contact us at:
Tel Number: 780.708.4040
Top