Barbados
The Caribbean's eastermost island, Barbados offers a vacation as diverse as its visitors. This charming island stil retains an imprint of grace and courtesy left over from 300 years of British tradition. With its chattel cottages, neat gardens and centuries old parish churches, it feels like England in the tropics. Arelaxing place, it offers a variety of things to do.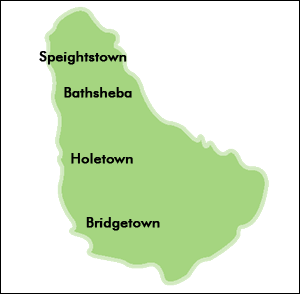 THINGS TO DO

Tours & Excursions
Take a sail on the 30 -metre puirate ship Jolly Roger - a full day adventure of cruising, snorkelling, drinking and eating. Considera trip to Harrison's Cave - a cave that glows with stalagmites, stalactites and a 15-metre waterfall. Or for true adventur, go where the tour coaches cannot go and take a scenic tour on a jeep safari.

Eating & Drinking 'Bajan Style' means slow and relaxed. The food is a blend of freshly caught fish, andf fruits and vegetables from the island.
Nightlife & Entertainment: Enjoy lively night spots - particularly in the St. Lawrence Gap area. You'll find sporting activities and restaurants.
To make an online reservation click here or
Book your Barbados vacation with a Wanderlust consultant.
GENERAL INFORMATION:

Flying Time from Edmonton: Approximately 7.5 hours.

Languages: English

Currency: Barbados Dollar. US Dollar recommended

Electricity: 110 volts/50 cycles

Documents: Check with your travel agent.
Contact us at:
Tel Number: 780.708.4040
Top