Antigua
Every year Antigua's warm winds and welcoming ports bring world-class sailors and boat enthusiasts back for another season of races and reggatas. With 365 beaches, one for everyday of the year, there's a place waiting just for you.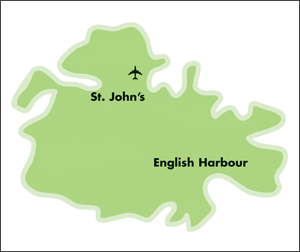 Antigua is the Caribbean as you've always imagined it. If you're looking for a holiday in one of the most coveted, idyllic corners of the Caribbean, the island of Antigua has got to be the answer.

The island, 17.5 kms at its widest point has 145 kms of coastline caressed by the ever changing Caribbean Sea. Sparkling lime green in the early morning, turning turquoise as the day grows longer, reflecting the rose of sunset and finally the glittering silver of the evening stars.

Antigua is blessed with some of the best weather in the Caribbean. Soaked with tropical sun almost every day and cooled by jasmine scented trade winds. With an average temp. of 25°C the climate is far from average, but close to perfect year-round. Antigua is paradise!
To make an online reservation click here or
Book your Antigua vacation with a Wanderlust consultant.
Shopping:
Be sure to visit Heritage Quay a complex of boulevards and duty-free shops in downtown St. John's.
GENERAL INFORMATION:

Flying Time from Edmonton: Approximately 6.5 hours.

Languages: English.

Currency: Eastern Caribbean Dollar. U.S. dollars recommended.

Electricity: 110/220V.

Gambling: Persons under 18 years not allowed to gamble.

Documents: Check with your travel agent.

Driving: Left side of road. Temporary permit $53EC (approx. $20US) with Canadian license.
Contact us at:
Tel Number: 780.708.4040
Top