Where else can you ride to the top of the Eiffel Tower, cruise through the Grand Canal of Venice, and lounge on a South Seas beach all in one day? Only Vegas, baby! A neon oasis in the Nevada desert, Las Vegas is home to the best of the best in cuisine, fashion, nightlife and gaming. The bright lights and 24/7 party atmosphere of Las Vegas make it the perfect place to escape the ordinary and discover the extraordinary.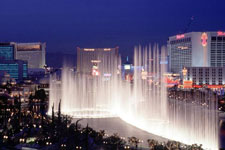 Las Vegas hosts some of the most uniquely designed shopping venues in the world, ranging from outlet malls to exclusive haute couture boutiques. Fine-art galleries exhibit works from celebrated masters. Many hotels feature top chefs in their restaurants, and several have received the "Grand Award" from Wine Spectator Magazine. And for entertainment, take your pick from sequined glamour girls, comedy and magic shows, the legendary Cirque du Soleil, and any number of productions featuring the top names in entertainment. When you're worn out from too much fun, relax by the pool in the warmth of the desert sun or indulge in a spa treatment. Nearly 70 golf courses can be found in and around Las Vegas, and side trips to Hoover Dam, Lake Mead, or the Grand Canyon are a fun option. So pack your bags. You're going to Vegas, baby!

Wanderlust offers great rates for the city that never sleeps Book On-line or Click for reservations
Weather and Geography
Las Vegas is located in a desert valley, and the climate is generally warm and dry. Summer daytime temperatures average in the low 100 ° F, and winter temperatures average about 60-70 °F with cool nights. The most popular times to visit are March through June and the month of October. To beat the crowds, consider planning your visit in the summer or winter months.
GETTING MARRIED WITHOUT A HITCH
However you want to tie the knot, Las Vegas offers you the ultimate freedom of choice, ranging from Elvis presiding over a 24-hour drive-through chapel to a lavish soirée at one of the world's premier resorts, from a breathtaking outdoor ceremony at Mt. Charleston to a traditional ceremony in a church packed with guests.

With more than 120,000 marriage licenses issued annually, Las Vegas is recognized as the world's wedding capital.
Requirements
Proof of age (driver's license, passport or birth certificate)
Must have a social security number; foreigners who exchange wedding vows in the U.S. may need additional or special documentation to guarantee the marriage is recognized in their country
Parental consent and court order (if under the age of 16)
No blood test
No waiting period

For more information
Call us at 780.708.4040