The Mayan Riviera
The Mayan Riviera is a cosmopolitan mix of rich history and modern-day indulgence. Combine Mayan ruins, white beaches and wildlife with fantastic shopping and dining and you'll see why the Mayan Riviera feels like a different destination every day.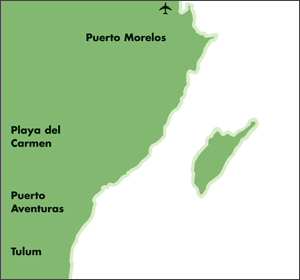 TERRIFIC TOURS

Archeological Wonders:
Chichen-Itza. This large, incredible city was built by the Mayans over 3000 years ago. The focal point, the famed pyramid which housed the king, dominates the terrain. Explore the city and its temples and get a better understanding of the incredible ancient Mayan civilization.

Tulum & Xel-Ha:
Experience the magic of the Mayan culture as you visit the ancient city of Tulum, perfectly located on the cliffs overlooking the crystal white sands and sky blue waters of the Caribbean. Then visit the aquatic wonders of Xel-Ha, an incredible lagoon protected from the open waters of the Caribbean. Here you can snorkel among numerous tropical fish, swim through caves and inlets or just float with the gentle currents through the lagoon. A sun and sea lover's paradise!
To make an online reservation click here or
Book your Mayan Riviera vacation with a Wanderlust consultant.
GENERAL INFORMATION:

Flying time from Edmonton: Approximately 5.5 hours.

Languages: Spanish.

Currency: Mexican Pesos. U.S. currency recommended.

Electricity: Same as Canada and the U.S.

Climate: Sub-tropical.

Documents: Check with your travel agent. Mexican tourist cards supplied and validated by your travel agent. some restrictions apply to tourists 18 years & under, when travelling without a parent.
Contact us at:
Tel Number: 780.708.4040