Acapulco
Acapulco is still the destination for the glamour of beachside restaurants and never ending nightlife. Thrill to the daily performance of world-famous cliff divers or create some Acapulco excitement of your own.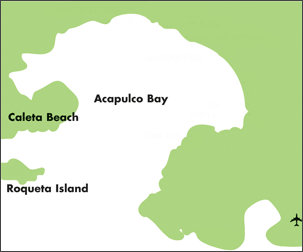 THINGS TO DO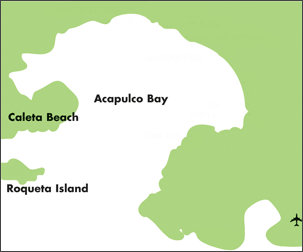 Watersports & Activities:
Enjoy deep-sea sport fishing, tennis courts, championship golf courses and water-skiing.

Dining & Nightlife:
Choose from dozens of restaurants featuring international cuisine. Carlos & Charlie's and the Hard Rock Café are great fun. Don't forget to visit Planet Hollywood!

Dance the night away at some of Mexico's finest discos, including Andromeda's, and the ever so popular Palladium!

Shopping:
Sportswear, handicrafts and silver are available all over town.

Spend some time downtown several blocks from the shore. Zocalo Plaza, surrounded by sidewalk cafés and adorned with a mosque-like cathedral, is a great place to shop.
TERRIFIC TOURS

Acapulco City Tour:
A 3-1/2 hour tour on air-conditioned coach. Meander along the scenic coastal highway. Stop at Caleta Beach. See a performance of the famous cliff divers at La Quebrada. Shop at La Costera, the main boulevard.

Taxco City Tour:
A full day tour to this picturesque colonial town, considered the Silver Capital of Mexico.

Margarita cruise (Sunshine Cruise):
Cruise on the Acatiki, one of the world's largest sailing catamarans. Tour Acapulco Bay on your way to secluded Pichilingue Beach to swim and snorkel. Lunch on board, open bar, snorkelling, DJ music, games & surprises are included.
GENERAL INFORMATION:

Flying time from Edmonton: Approximately 4 hours.
Languages: Spanish
Currency: Mexican Pesos. U.S. currency recommended.
Climate: Sub-tropical
Electricity: Same as Canada and the U.S.
Documents: Check with your travel agent.

Note: Some hotels require credit card imprint upon check-in for any incidental charges. Hotel check-in is typically between 3pm and 4pm – it is a good idea to pack essential items in your carry-on luggage (i.e. bathing suit, suntan lotion, medications, etc.), so you do not miss any valuable vacation time.
Contact us at:
Tel Number: 780.708.4040
Top