Costa Rica
Costa Rica has an amazing variety of beautiful vistas and unique environments. Explore could forests, rainforests and unspoiled coastline and see a side of nature you won't find anywhere else in the world.

THINGS TO DO

Eco-Tours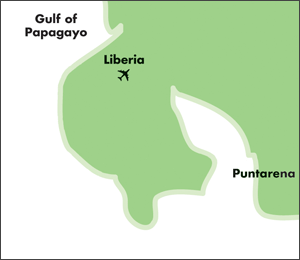 A nature-lover's paradise, Costa Rica has over 800 species of birds to see and a great variety of animals and butterflies!

Daily Tours
Enjoy day trips to natural springs, forests and national parks. Take a jeep tour through Guanacaste and see the many magnificent waterfalls & other natural wonders including the spectacular beaches.

Other Excursions
Fishing, sailing and golfing are all available in this fabulous destination.

Dining & Nightlife
Visit the quaint and casual Playa del Coco with its restaurants, bars and shops.
To make an online reservation click here or
Book your Costa Rica vacation with a Wanderlust consultant.
GENERAL INFORMATION:

Flying Time from Edmonton: Approximately 7 hours.

Languages: Spanish

Currency: The Colon. U.S.currency recommended.

Electricity: Same as Canada & the US

Climate: Sub-tropical

Documents: A valid passport is required to enter Costa Rica.
Try Our Combo Package
You can combine any one of our fabulous resorts with the Volcanoes & Rivers Eco-tour.
Contact us at:
Tel Number: 780.708.4040