Curaçao
From the brightly painted houses of historic Willemstad to the beauty of tropical fish and coral reefs in one of the Caribbean's best destinations for diving, Curaçao makes an unforgettable impression.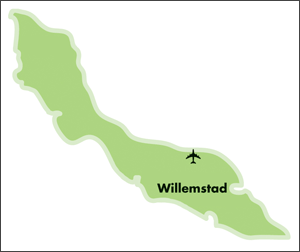 Curaçao's diverse landscape offers many opportunities for exploring, swimming, diving and watersports. From protected nature parks and intimate beach coves, to sheltered inlets and calm turquoise waters, there's something here for everyone. There's never been a better time to discover the quaint towns, quiet beaches and delicious cuisine.

Willemstad, the capital of Curaçao, is unique in design with its historical buildings and architecture complimented by its multicultural treasures with Dutch flavours and Caribbean excitement. Also known for its shopping, Willemstad has turned its 2 largest streets into pedestrian malls so you can wander at will among the tempting shops.
To make an online reservation click here or
Book your Curacao vacation with a Wanderlust consultant.
THINGS TO DO

Activities:
Experience the magnificence of Curaçao's Underwater Park featuring tame fish and coral formations and an artificial reef made of old car wrecks or dive on the wreck of an old Dutch Steamer which sank some 80 years ago. You can also visit the many museums and art galleries in the historical capital of Willemstad or explore the Hato Caves, formed below sea level millions of years ago.

GENERAL INFORMATION:

Flying Time from Edmonton: Approximately 6 hours.

Languages: Papiamento, Dutch, English & Spanish

Currency: Florin, US dollars recommended.

Electricity: 110-130V, 50 cycles

Documents: Check with your travel agent
Contact us at:
Tel Number: 780.708.4040
Top