Dominican Republic
The Dominican Republic is one of the most inviting destinations in the Caribbean. Colourful crafts, friendly people and non-stop fun are waiting for you with open arms.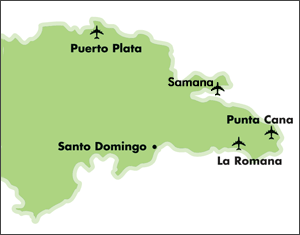 In the heart of the Caribbean, occupying two- thirds of the island of Hispaniola, lies the Dominican Republic. Discovered by Columbus in 1492, it has been welcoming tourists ever since!

A combination of enchanting history, breathtaking mountains, spectacular beaches with azure waters, and the seductive beat of the Merengue, makes this friendly island Sunquest's fastest growing destination.

Golf is also one of the DR's top attractions, now with over 15 courses in exquisite settings, some from world-class designers such as Robert Trent Jones. See the hotel pages for some of the outstanding golf deals we have negotiated on your behalf!
To make an online reservation click here or
Book your Dominican Republic vacation with a Wanderlust consultant.
FLIGHTS TO PUERTO PLATA AIRPORT
Puerto Plata, where Columbus first landed, is the tourist centre of the North (or "Amber") Coast. Close by is the specially built resort town of Playa Dorada, and also the village of Sosua, set on a stunning half moon bay, with a more European atmosphere. Cabarete is a trendy, unique little town, where restaurants, bars, cafes and boutiques line both sides of the picturesque main street. It is known worldwide for windsurfing, and is ideal for the youthful set, with the music "hot", and the atmosphere "cool".

FLIGHTS TO PUNTA CANA AIRPORT
Located at the eastern tip of the island, the Punta Cana region is a beach lovers' paradise. Here you will find 35 kms. of pearl white, palmfringed beaches, the most famous of which is Playa Bavaro. Watersports, sun and relaxation in world-class, attentively landscaped resorts await you. If you are looking for luxury at prices that won't break the bank, this is the destination for you!
GENERAL INFORMATION:

Flying Time from Edmonton: Approximately 6 hours.

Languages: Spanish.

Currency: Pesos. U.S. dollars recommended for exchange purposes.

Electricity: Same as Canada and U.S.

Climate: Sub-tropical

Documents: Check with your travel agent. Tourist cards supplied by the tour operator at the airport. Some restrictions apply to tourists 13 years & under, when travelling without a parent.
Contact us at:
Tel Number: 780.708.4040
Top