St. Lucia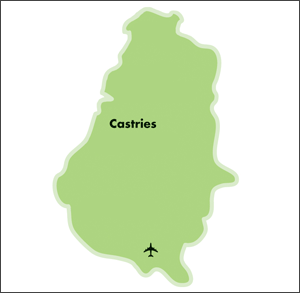 An island of volcanoes, mountains, rainforest and pristine beaches, St.Lucia is home to exotic varieties of orchids and tropical birds not found anywhere else. Truly the island paradise you've been dreaming about.
THINGS TO DO

Take A Hike

The Piton Mountains have become the symbol of St. Lucia. The two pyramidal cones, covered with lush green tropical vegetation, were formed by the lava of a volcanic eruption about 40 million years ago. The taller but narrower 'Petit Piton', stands at 801 metres while the broader 'Gros Piton', where hiking is permitted, stands at 753 metres. Aim for the summit.
To make an online reservation click here or
Book your St. Lucia vacation with a Wanderlust consultant.
GENERAL INFORMATION:

Flying Time from Edmonton: Approximately 7.5 hours.

Languages: English & Creole

Currency: Eastern Caribbean Dollar. US Dollar recommended

Electricity: 220V

Documents: Check with your travel agent.
Contact us at:
Tel Number: 780.708.4040
Top